Description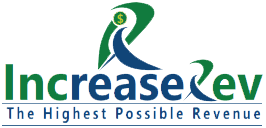 Increase Rev founded with the visualization of 'Increasing Revenue' for digital content creators and facilitating 100% transparency of reports.
We are genuinely interested in our client's advantage. Our experts are optimizing programmatic advertising on daily basis and they have maintained strong relationship with top brands. Besides that we are also helping content creators to advance reader experience, Ad Revenue, website speed, SEO, video content management, new ad technologies and so much more!
Being publisher ourselves, we are aware that creating digital content and simultaneously aiming to earn highest is a great hustle. We clearly understand your efforts & we truly know the art of maximizing yield that you deserve.
SERVICES
Full Ad Management:
Let us manage your whole ad inventories for pulling out maximum yield. We have dedicated team working for attracting premium direct campaigns for our publishers. Setting exclusive deals with us will reduce your time and money risk factor. We are specialized in setting best match for both Publishers and Advertisers.
AdX:
We have key people working for optimizing individual sites for generating maximum revenue from Google AdX. We will be lifting up your Google ads revenue up-to 100%. We normally get preferred deals from Google AdX which set us apart from other partners. Strategic ad placement guidance will enhance your overall website revenue. Starting from day one you will see increment in CPM and it takes 30 days to strengthen ad inventory for peak values.
AdSense Optimization:
Tired of low AdSense revenue? We will guide you complete road map of increasing your revenue. Our policy team will also scan your website in order to make sure you are working 100% under Google Ads Policy Guidance. We help in AdSense revenue acceleration and its long term persistence.
Video Content Management:
We provide inclusive video content management system and delivery to the global optimum publishers. Having dynamic video CMS certify that the right content reaches the right viewer at the right time. Videos are categories on contextual basis to guarantee foremost user engagement. On the same grounds World's top brands are bidding on our video inventory.Read more
Video monetization:
Enjoy comprehensive video solution with video player, free video hosting and video monetization. We supply finest video player and Our video monetization services have surpassed all revenues for In-Stream video ad by means of expert optimization and excessive advertisers demand. In contrast, we introduced Out-stream video ad to websites not suited for video content.
Web Design, Hosting & Development:
Do you want to get started?
1. We provide high-quality Web Hosting at reasonable price.
2. We prioritize our clients needs and we have team of experts Web Designers who have made many businesses successful online.
3. With extensive experience in Web & Application Development we will turn your ideas in to users lifestyle.
Ad Manager:
IR Manager WordPress plugin automatically blocks Google Ad on policy violation pages. This plugin enables publisher to either collapse ad div or show relatedarticles in ad space. You can choose to show article by Tags, Category or Latest & it will run in respective priority. You can also redirect violation URLs to homepage or desire page.
IR Manager helps publishers in improving page views from violating pages & prevents website from any risk to Google ad serving due to increasing Google Ad policy violations.